Call 705.733.5154 24Hr Emergency Service
We do it all! Plumbing, pumps water softeners, water treatment and backflow testing
M.A.C. STEWART PLUMBING - LICENSED MASTER PLUMBER
Need professional plumbers for a custom home, backflow testing,pump repair, sump pump installation, drain camera inspection, drain cleaning, plumbing repair, water treatment, or sewer replacement? Call (705)7335154 for all of your plumbing needs in Bradford, Barrie, Alliston, New Tecumseth, Keswick, Orillia,Wasaga Beach, Angus, Uxbridge, or Newmarket.!
Whether it's a clogged drain that's bothering you, or a showers leaking, you've come to the right place. We are master plumbers and provide comprehensive plumbing solutions on everything from burst pipes to plumbing leaks to appliance installations. Skip the DIY projects and look to long-term repairs that are guaranteed to last by licensed plumbers. You will find our service trucks serving Bradford, Newmarket, King, Georgina and Barrie.
LOOKING TO CLEAR A CLOGGED DRAIN?
One of the most common plumbing problems is a clogged drain. There are a variety of factors that cause these blockages. Those directly affecting sinks and toilets are often caused by products homeowners allow to enter their drains: grease, oil, hair, and food items. To prevent clogs from occurring, it's important to be mindful of what enters your drains on a daily basis.
Clogs can also result from outside factors, such as pipe corrosion and tree root invasion. Older sewer pipes that corrode can hinder the normal flow of water and waste. Tree roots that grow into your sewer lines can also cause clogging, as they eventually block the pipe's passageways. To solve your clogged drain problems, we provide professional drain cleaning services that include hydrojetting, and rooter services.
OUR PLUMBERS ARE AT YOUR SERVICE AT ANY TIME JUST CALL 705.733.5154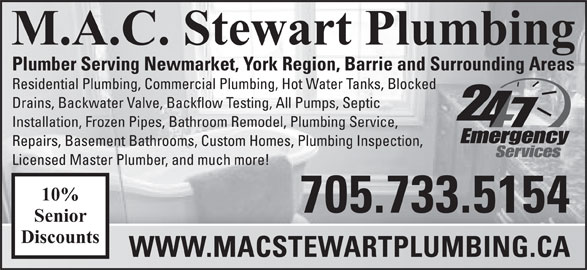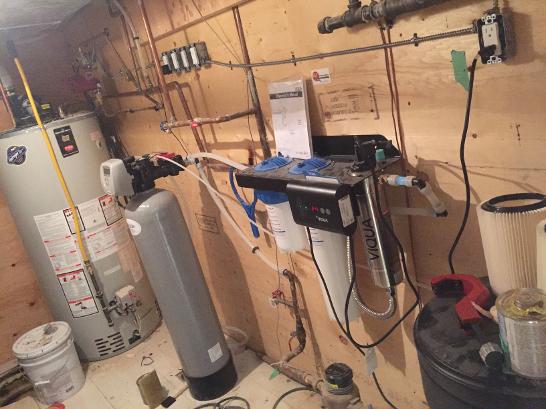 We Supply And Install Water Softeners, Water Filters And Uv Lights. Only The Best Water Treatment Systems!