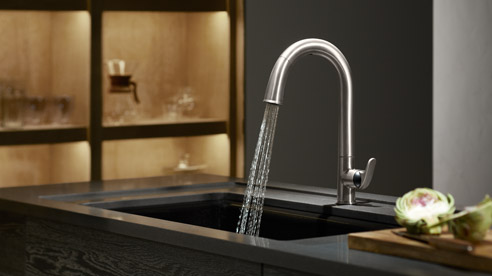 Faucets and Sinks
When you need a faucet or sink installed or repaired call us.
Kitchen Faucets
Even slow and small faucet drips can send your water bill through the roof. We can upgrade your kitchen sink faucets to eliminate leaks, install your choice of faucet style and make working in your kitchen just a little more convenient for you and your family.
Bathroom Faucets and Toilets
Updating older or out-of-date bathroom fixtures can increase your property value and help avoid future damaging leaks, floods or breakdowns. New fixtures can also provide a nice style upgrade to your bathroom.
Water Heaters
Hot water is an essential in your showers, bathtubs, kitchen sinks, dishwashers, and washing machines. When you count on hot water to be there every time you need it, proper water heater installation is a must.
Hot Water Dispensers
Tired of waiting for water to heat for tea or cooking uses? we can install a hot water dispenser in your kitchen to offer the convenience of ready hot water whenever you need it.
Boilers
If your old boiler is leaving you cold, our plumbers can install new equipment to improve your home comfort.
Water Softeners
Is it time for an update for your faucet? Call us.
If it's just dripping, you can usually just replace a washer or other seal. Don't worry if you need to replace the whole thing though. The procedure is pretty straightforward, especially if you have the right tools.
When should you replace your faucet or sink?
Your faucet or sink needs to be replaced when they become too old or worn out to work properly. Your sink may have cracks, and your faucet may be rusting. You will notice that these items are not looking the way they used to, and you cannot do anything to improve their appearance. The investment in a new sink or faucet will prevent you from spending more money on repairs that continue to add up over time.
How can you prevent leaks?
The leaks that occur around your faucet and showerhead are often due to a poor connection to your water pipe. There is always Teflon tape at the connection, but that tape will wear down over time. A professional plumber needs to check the fixture, replace the tape, and test the pipe for any leaks.
Your faucets and showerheads should also produce a proper stream of water at a pressure that is suitable to your liking. You cannot abuse your faucets or sinks and expect them to stand the test of time. Most of the problems that occur with these units are due to extended use and improper maintenance.
You should always look out for rust around your faucets and showerheads. The rust can be cleaned before it cuts into your pipe. You should also check for small leaks in your fixtures, and upon spotting one you should have it repaired as soon as possible, before it turns into a major issue, which will require more costly repairs.
In trying to keep your faucets and sinks working properly, you need to keep in mind that hard water does the most damage. However, even if you do follow proper maintenance guidelines and handle your hard water problem, other issues are still likely to crop up. That is why it is important to have a trustworthy home service company that you can call anytime for any problem. Regular service visits from trained professionals can help keep your home's plumbing fixtures functioning properly and your family safe.