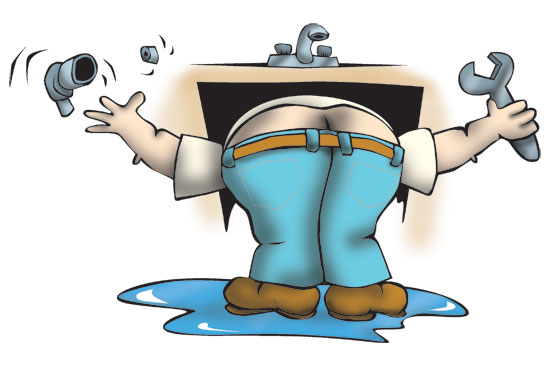 YOUR SHARON, ON. PLUMBER SINCE 1999
M.A.C. Stewart Plumbing has been serving Sharon, ON. since 1999, long before it was the media capital of the world! Our commitment to outstanding residential and commercial plumbing services in Sharon will assure that we'll be here for many years to come. If you're looking for the only plumber in Sharon you'll ever need, give us a call. We do it all, from minor repairs to major remodeling projects and new construction work. And we're the 24 hour emergency plumber in Sharon you can trust to be there when you need us the most. Here's what we offer. Call (705)7335154 for Fast Service Today!
TOTAL RESIDENTIAL PLUMBING IN SHARON, ON

.

Call us for any repair or installation work you need. Our repair services include pipe repair, trenchless sewer repair, hot water heater repair, faucet repair, gas line repair and dishwasher repair. We do the sewer line repair Sharon residents choose when they want it done right the first time.

Our drain cleaners rooter Sharon sewers and drains that are slow or clogged. Be sure to call us before the rainy months of winter, and we'll make sure your drains are clear to avoid backups and flooding. Our skilled plumbing technicians also provide tankless water heater installation Sharon homeowners depend on for continuous hot water. We'll choose the right model for the needs of your household, and you'll never run out of hot water again when you call us for your hot water heater installation!

We provide safe, secure gas line installation for your water heater, gas range or dryer, fireplace insert or other gas-fired equipment. M.A.C. Stewart Plumbing is the right choice for sprinkler systems Sharon lawns, shrubs and flowers love. Our systems are automated and hassle-free, so they'll keep your landscape looking great in the spring and summer months when very little rain falls. If you want the professional services of the residential plumber Sharon customers know can handle any job, then give us a call.
COMPLETE COMMERCIAL PLUMBING SERVICES SHARON BUSINESSES TRUST
We're the commercial plumber fully licensed and insured for all commercial work from repairs to major renovation projects.
Call M.A.C. Stewart Plumbing for tankless water heater installation Sharon business such as restaurants, medical offices, schools, the entertainment industry, daycares and others rely on to meet their hot water demands.
An unexpected increase in water use or a decrease in water pressure may be the first indication of the presence of a leak in your Sharon home. Leak detection Sharon from our plumbing experts is the fastest and most economical way to find leaks. Video camera inspections allow our pros to pinpoint leak locations, even under cement slabs.
We offer the sewer line repair Sharon business owners know will be done right the first time.
We also provide the drain cleaning Sharon, ON. trusts to fix slow or clogged drains to prevent backups that can quickly cause water damage. We're Here for You Every Day of the Year You can see why we're the commercial and residential plumber Sharon trusts for any plumber services.
When it needs to be done right, give M.A.C. Stewart Plumbing a call. When the unexpected occurs, we're the 24 hour emergency plumber that will come running — nights, weekends or holidays. Call today, and we'll be on the way with prompt, professional plumbing services you can depend upon.
EMERGENCY 24 HOUR PLUMBING SERVICES
CALL (705)7335154 NOW!
M.A.C. STEWART PLUMBING SERVICES
AVAILABLE 24 HOURS
FREE ESTIMATES
SERVICING SHARON, ON.
ESTABLISHED IN 1999

CALL (705)7335154 TODAY M.A.C. STEWART PLUMBING - PLUMBERS AND SEWER & DRAINS SPECIALISTS
Here are some plumbing tips for all our plumbing customers in Sharon
In the life of a homeowner, there are plumbing issues that are sure to arise: Clogged drains, pipe leaks, and water heater failure are just a few examples. That is why it is nice to have someone you can count on when problems arise. we deal with countless issues every day and provide repairs and installations to remedy your situation. We offer a number of professional services for homeowners in and around Mississauga, ON. Listed below are some questions regarding common problems that homeowners face.
What are signs you need professional drain cleaning?
Professional drain cleaning is a great way to clear out stubborn clogs and get you pipes back to proper working order. You should seek professional drain cleaning services if you have persistent clogs, clogs in multiple drains, or water backing up out of the drains. All of these issues indicate a large complex clog within the piping system that will likely not respond to snaking or chemicals. Professional drain cleaning can clear out any existing clog and prevent future clogs from occurring by removing residue and scale from the pipe walls. Water pressure will also return to normal after a professional drain cleaning services has been performed.
What are the dangers of leaking pipes?
Many people believe that a little water dripping from your pipes here and there is normal, but it actually requires the attention of a certified plumbing technician. There are a couple dangers of leaking pipes that you may not be aware of and need to acknowledge.
One of the things you should be concerned about when you are dealing with leaking pipes is your flooring. If the water pipes are leaking, the flooring can begin to warp, and your carpets can retain moisture, causing mould and mildew issues.
Another danger you need to acknowledge is a weak foundation. Discolouration is primarily noticed when a pipe is leaking. Water contaminates and floods flooring, causing the foundation to crack and eventually crumble.
If you are having problems with leaking pipes it is important that you contact a trusted professional right away.
Sweating a copper water line is relatively easy. Knowing how to sweat copper pipe allows a do-it-yourselfer to install pipe yourself. A properly sweated joint will last for years (in many cases decades).
Sweating copper pipe is not difficult, but it takes practice. Mastering a perfectly sweated copper joint takes a bit of practice. Be patient! Your first couple of attempts may not look beautiful, but soon you'll be sweating copper that not only does not leak but also looks good.
Need a plumber in Sharon? call us (705)7335154