Need commercial plumbing services ? You've come the the right place call us (705)7335154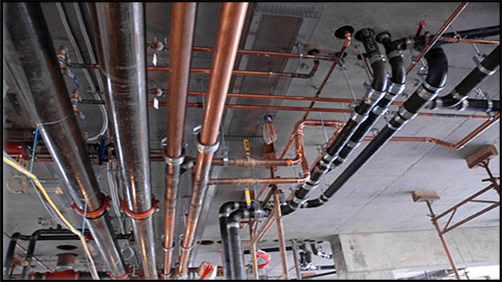 Our highly skilled technicians also specialize in commercial plumbing. commercial plumbing services including the design and installation of all interior plumbing systems, sewers and drain systems, vents, water piping, fixtures, finishes and related equipment for specific building projects of any size. Call us! (705)7335154

Restaurant plumbing
When you run a restaurant you know how vital rapid and reliable plumbing repairs can be to your business. Being able to stay open because drains were unblocked or restrooms were repaired when you needed it can make a big difference.
We service all types of restaurants, schools, golf courses, and other dining establishments. We understands how important rapid and thorough plumbing service is to the restaurant industry. So when you need immediate and on-going reliable plumbing service.

New Installations and Retro-Fit, Repairs, Hot Water Issues, and Customer Restrooms
Commercial Plumbing Services:
24 hr Emergency Service
New Buildings/High Rises
Water Source Heat Pumps
Hot Water Systems
Underground Piping
Domestic Water Supply
Sewage Cleaning/ Piping
Storm Water Management
Automatic Temperature Control
Bathroom Remodeling/Installation
Kitchen Installation/Remodeling
Ejector Pumps
Pressure Valves
Flange Replacement/Repairs
Water and Sewer Main Repair/Installation
Water Filtration Systems
Conduct Plumbing Sign Offs
Available for Plumbing Consultation
Sprinkler system installation
Code violation removal & resolution
Annual inspection (boiler and sprinkler)
New roughing for new construction and existing buildings
Specializing in re- piping lofts
Whatever your plumbing needs are in your restaurant, from new start-up restaurant, new installations and Retro-fit, repairs, hot water issues, remodeling job, new toilet installations to clogged toilets and broken faucets. We provide complete repair and rapid service so you can provide continuous great service for your customers.


We strictly adhere to industrial safety and building code standards on all plumbing projects. The best and most experienced and reputable plumbing professionals around and we are with you from the design phase all the way through to installation and subsequent maintenance as required.

In addition to standard commercial plumbing, We can also handle the design and installation of full sewer and drain systems for new and existing buildings.

Our complex plumbing system design is carried out in our head office by a talented team of industrial mechanical engineers, who provide logical solutions to even the most complex plumbing challenges. York region businesses depend on us to get the job done on time and on budget so they can be up and running as soon as possible. Our services include: York Region Commercial plumbing , Barrie commercial plumbing.
Many people use your business's plumbing system in one way or another all day long. Proper maintenance can prevent clogs that will ultimately cost you time, money, and potentially happy customers. Clogged drain lines, clogged floor drains, and clogged grease traps are among the most common plumbing issues commercial properties deal with.
Leaking Faucets and Toilets
Once your leaking toilet and faucet emergency has been handled and all repairs are made, a technician may be able to recommend upgrades or a simple retrofit to your washroom equipment. This can help prevent a future toilet leak or faucet malfunction.

Consider a plumbing maintenance contract so that can help you avoid any future toilet or bathroom faucet problems.

If you notice one clogged toilet or bathroom sink, there may be others with impending problems. Call us immediately.

If you notice a sink or toilet draining slowly, don't let the situation continue. Small leaks or slow-running faucets and fixtures can easily turn into major property damage--or plumbing emergencies. Contact us right away.

If you hear unusual toilet noises or a faucet squeals and squeaks, don't wait. You may have a toilet blockage or pipe damage in the making. Contact M.A.C. Stewart Plumbing immediately.

In emergency situations were ready to help. Put us on speed-dial. Call us anytime 24/7.
will analyze your plumbing issue and quickly restore your plumbing and drainage system to proper function. We'll get your business back on track—in record time.
Our expert plumbing technicians are fully trained and equipped to examine your situation, locate the cause of your plumbing leak, drain blockage or more complex plumbing issue--and stop the problem at its source.

we use the latest diagnostic and repair equipment (like video plumbing inspection and drain cleaning) to ensure efficiency, accuracy and superior commercial plumbing services.

We work fast and we clean up after our work is done!
Plumbing professionals serve:
Bars, restaurants and eating establishments of all sizes

Hotels and motels

Small business offices

Hospitals and health clinics

Nursing home settings

Sports venues

Shopping centers or malls

Grocery stores, food retailers

Gas stations, convenience stores

Food processing plants

Education facilities, universities

Airports and public buildings
Installation and Upgrades--No Problem
Call us, even when it's not an emergency. expert installers and can provide basic or sophisticated system upgrades to fit your company's needs.
An Ounce of Prevention is Free
To make sure your system stays up and running, we offer a free Plumbing Checkup of your entire system. This preventive inspection helps to catch impending plumbing issues before they turn into costly breakdowns. Your professional will perform a comprehensive, multi-step checkup of all plumbing elements on your property, with special attention to high-use areas such as kitchen operations and bathroom facilities.
Your Satisfaction is Our Mission
Our goal is to quickly and correctly analyze your businesses' plumbing situation, treat it with the most up-to-date technology, equipment and products available in our industry--and deliver unparalleled commercial plumbing services. We work hard to be the very best in the industry. We will exceed your expectations.
What are 3 backflow devices you can install in your home?
Backflow devices can really be instrumental in protecting the water supply in a home. Here are 3 useful backflow devices that can be installed in a home.
The pressure vacuum breaker assembly is classified technically as a backflow prevention device. It protects the potable water in a home, performing similarly to an atmospheric vacuum breaker. This particular device is usually recommended for homes where the valves are downstream. If adequately protected from extreme conditions, they can be better preserved.
The reduced pressure principle valve is used to check valves to prevent water from flowing improperly into the pipes. A check valve bears the resemblance of a disc or a flap. The force of the water pushes it open, permitting water to flow in the correct direction through the pipe. The RPD contains a spring that causes it to open and close when water attempts to make its way through the pipe.
Reduced pressure zone devices contain multiple check valves. The chamber separating the two check valves maintains a certain level of pressure to allow water to be discharged from the drain. A differential pressure relief valve is responsible for managing excessive levels of pressure in the system.
When do you need replacement services?
When living in certain areas, there are conditions that can drastically shorten the life of a backflow system, causing negative changes to your water quality and ultimately limiting the performance of your unit. These issues may indicate that your system needs to be tested. After your system is tested, repairs may need to be made. Backflow valve replacement services may be needed when the backflow valve systems require too many repairs in a relatively short amount of time. If failure begins to occur as a result of changes in the quality of your water, the backflow valve replacement may involve the use of different parts made from sturdier grades of rubber.
What are the benefits of replacement?
Backflow valve replacement services protect the quality of your water and eliminate contaminants from entering your water supply. Replacing the system can also ensure that the water supply is maintained at a consistent level of quality. It can also save a person significant amounts of money by eliminating the need of constant repairs. Back siphonage and back pressure are the two main types of systems that can protect the potable water supply. Backflow prevention systems control the way water enters the system, and eliminates harmful chemicals that could lead to death or chronic illness if one is exposed.
Commercial & Industrial Plumbing
For any of your Commercial or Industrial plumbing, sewer, septic, grease interceptor or portable sanitation service requirements, Mac Plumbing is the company to call! With our dedicated staff including licensed plumbers, dispatchers and management, Mac Plumbing will stop at nothing to keep our loyal customers satisfied! We provide services for the following Commercial and Industrial Buildings: High-Rise Residential and Condominium Buildings; Factory and Manufacturing Plants; Retail Plazas and Malls; Restaurants; Dealerships; Retirement Homes; Schools; Day Care Centres and much more! We can take care of most of your commercial and industrial needs
• the service and performance of the Commercial and Industrial Services that we provide. We know the needs of building owners and property managers and we strive to meet their requirements.
Our Sewer Service Vehicles contain all of the equipment that is required to perform the tasks at hand. From small drains to large sewers, we do not require to leave the jobsite until the job is completed. From electric drain augers to high pressure flushing equipment, we come prepared to resolve your issue in a timely manner. We also have the technology and the experience for video inspections of sewers. This technology enables us to inspect the condition of sewers and we can accurately determine defects or the condition of the piping. This eliminates the guess work and can save unnecessary costs. Video inspections are an excellent way to detect a variety of obstructions like broken sewers, pipe sagging, offset joints and sludge buildup. We can also inspect for future connections and locate existing sewers.
All of the piping that we clear blockages from or video inspect, we can also replace or repair. For years, we have worked in conjunction with the City of york region programs to inspect and repair defective sewers.MacPlumbing is also highly experienced in the installation of backwater valves.
We provide 24 Hour Emergency Service… Anytime. Anywhere
Water heaters
• Backflow prevention assemblies
• Drain clogs
• Pipe replacement
• Appliances and fixture nstallations
• Water and sewer lines
• Grease traps
• Sand traps
toronto commercial plumbing /Simcoe region commercial plumbing / York Region commercial plumbing / Newmarket commercial plumbing / Barrie commercial plumbing / Aurora Commercial Plumbing / Commercial Plumbing Richmond Hill / Commercial Plumbing York Region / Commercial Plumbing Toronto / Commercial Plumbing Alliston / Commercial Plumbing Georgina / Commercial Plumbing Sharon / Commercial Plumbing Holland Landing / Commercial Plumbing Concord / Commercial Plumbing Maple / Commercial Plumbing North York / Commercial Plumbing King City / Commercial Plumbing Thornhill / Commercial Plumbing Unionville / Commercial Plumbing Vaughn / Commercial Plumbing woodbridge / Commercial Plumbing Innisfil / Commercial Plumbing Wasaga Beach / Commercial Plumbing Angus / Commercial Plumbing Midhurst / Commercial Plumbing Keswick / Commercial Plumbing East Gwillimbury / Commercial Plumbing West Gwillumbury and surounding areas
Need a commercial or industrial plumber? call us! (705)7335154