Sump Pumps (705)733-5154
When you need a sump pump or repair call us.
A master licensed plumber will answer any questions or concerns. We will beat any plumbing contractor or plumbing services quote. Days or night appointments. Get a free plumbing inspection with any service. We understand When you have a plumbing emergency and can be there in 30 minutes.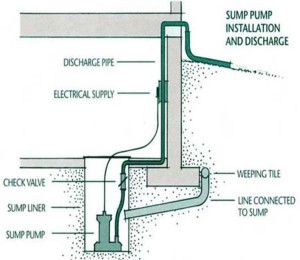 Sump Pumps
Sump Pump Types
There are four types of sump pumps commonly used – two are electric, one is water-powered while the fourth is available in either option.
Pedestal – This type is an upright electric sump pump whose motor is located above the pump as it is not meant to get wet. It has a float-activated switch that turns the pump on when the water reaches a certain level. It is ideal for basements needing frequent water drainage. They are usually the least expensive but tend to be noisier than the submersibles.

Pedestal Pump
Submersible – This electric sump pump is installed in ground and specifically designed to function underwater. It has the same float-activated switch as the pedestal. Submersibles are more expensive, but boast a longer life than the pedestal type. Their sealed, oil-cooled motors are protected from moisture and dust, making them quieter.

Submersible Pump
Water powered - This type of sump pump runs off the water pressure from your home plumbing system. It has the same float-activated switch as the electric sump pump types, and handles water at a comparable rate. Since the water-powered pump requires no electricity to operate, it is often installed alongside an electric sump and used as a back up system during a power failure. Water powered sump pumps are energy efficient because they are powered by water, not using electricity.

Water Power Pump
Floor Sucker Pumps – These sump pump types are used mostly in basements, cellars or crawl spaces which do not have an actual sump pit. They are called floor sucker pumps because they remove water to within a 1/8" of the floor (or other surfaces such as a roof or the ground). Available in various flow rates, under manual or automatic operation, while some are electronically controlled, the floor sucker pumps are versatile. They were particularly useful during the east coast storms this fall.

Floor Sucker Pump
Sump Pump Problems Can Be Easily Avoided
Many of us take for granted that we have a sump pump and that it works effectively. Some of us don't even know what a sump pump looks like, but when a water problem arises in our home, we soon realize their importance. Although sump pumps have a lifespan of 5 to 7 years, they may fail unexpectedly for various reasons.
Sump Pump Failure

One of the most common causes for sump pump failure is an electrical power outage. To safeguard yourself from this potential situation, it is wise to have a backup generator that can be manually activated. This measure alone, however, is not a guarantee against sump pump problems. It is also possible that your primary pump can mechanically fail and a generator cannot help in this situation.
If you have an incorrectly sized pump, or if the pump is not installed properly, you will most likely encounter a problem. Contrary to the common belief that bigger is better, a small sump pump can be just as effective as a big one. In fact, in some cases when a sump pump is too big, the pump is forced to work harder resulting in a shorter product life span. Alternatively, a pump that is too small may not be able to adequately pump out the water - again resulting in a shorter life span. Choosing the correct size for your home will ensure maximum life expectancy for your sump pump.
Installing a sump pump must be done right. It is of utmost importance that the manufacturer's instructions be carefully followed for the installation in order to avoid severe water damage down the road. The sump pump pit should not be set in dirt or gravel as this can cause debris to enter your pump. Debris can result in interference with the pump's on/off switch or the float arm
Switch Problems

Perhaps the leading mechanical cause of sump pump problems is a switch problem. This occurs when the pump shifts from its position inside the basin, rendering the float ineffective. This is a serious problem because the float is responsible for the smooth operation of the on/off switch. Your sump pump relies on both the switch and the float arm mechanisms to operate effectively. Attentive care should be taken to ensure that they are in good working order.

All of the sump pump types are available in either plastic or cast iron.
For the cost-conscious homeowner, plastic sump pumps will suit some applications, delivering a dependable product for a reasonable price. For contractor-grade, longer-lasting applications, opt for the cast iron construction.
No matter which one you have or have chosen, all sump pump types should have a check valve on the water outlet pipe in order to prevent the water from running back into the sump when the pump shuts off. Water flowing back and forth can cause the pump to turn on and off more than necessary and shorten the life of the pump.
Choose the design and material of your sump pump based on the application in your home. Be it an electrical, water-powered or floor sucker model, your home is safer and more secure with a quality sump pump.
If you have already lived through the dreaded experience of a flooded basement, then you know how much damage it can cause. Even one inch of water can take many hours to clean up and causes thousands of dollars in damaged furniture and carpets. Installing a sump pump in your basement is your best defense to prevent flood
Basement flooding is most often caused by water build up in the soil that makes its way into your basement. There are many ways for water to enter and many ways to prevent it from entering. A sump pump on the other hand is a last defense against flooding because it pumps out water from the lowest section of the basement before the water level reaches the basement floor level. As groundwater level rises it is diverted into the sump hole. When the water reaches what is called 'the critical level', the sump pump begins to pump it out through a pipe that leads outside and away from your foundation.
Apart from the obvious damages to your belongings, flooding can also cause plumbing problems, a damaged foundation or rotted wood; all of which are troubles that bring down the value of your home. A sump pump can save you thousands of dollars in the long run by maintaining the value of your home and by protecting your belongings from water damage.
The sump pump has recently become more important especially in newer homes since the Federal Clean Water Act no longer allows builders in many municipalities to drain rainwater collected by gutters into sewerage systems. Water collected on the roof of your home and drained by your gutters can cause flooding if it is not carried carried far enough away from your foundation.
Checking your sump pump
It is important to check your sump pump regularly to make sure that it is in proper working condition.
Remove the cover and slowly pour water into the sump tank.

Watch for the "float" to rise and trigger the pump.

Once the pump is engaged, the water level will quickly lower and the float will shut off the pump.
This is what is called "a normal sump cycle".
Most problems with the sump pump are float related. If the pump does not start, the float may be hanging on something in the tank. A simple repositioning of the pump should solve the problem.
If this fails, the float may need replacement.

If the pump fails to shut off when the water level drops to the bottom of the sump tank, this indicates a new float is needed.

Float switch.
What are some common problems?
Your sump pump will eventually run into problems as time goes on, but many of these problems can be avoided by knowing your system and taking the proper precautions. Most sump pumps will clog if they catch the wrong kind of debris. The debris can clog the pipe, but the pipe can also clog the pump itself. You may be able to remove the debris yourself, but you will likely need a professional to remove the clog for you. Also, sump pump motors will stop working at some point. If your sump pump is getting older, you may need to have the motor replaced before it stops working. Also, the remote starter for a sump pump could stop working if it is shorted out during a flood; this issue is rare, but still possible. Be sure to have your sump pump serviced regularly to avoid preventable issues.
What are the benefits of having a sump pump?
A sump pump keeps your basement or crawl space clear of water at all times. Your sump pump can be triggered manually or remotely, depending on the system that you choose. It is recommend for both safety and reliability that you do not install a sump pump on your own, it is best to have a qualified technician set up the system for you.
What type of system do you need?
You can install any number of sump pumps in your home, and it is important to make sure that you know which one is going to work best for you. We can provide you with a list of options and help you to choose what system will work best for your home and budget.
A pedestal unit can pump water out through a drain much faster than the drain can flow. A unit that has a battery backup system can be triggered remotely, and you will not have worry about wading into a flooded space to turn it on. Also, you can turn on the unit even if you have lost power in the home.