Heat Tracing (705)7335154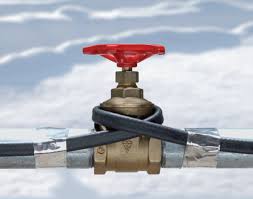 We do things professionally and we know how cold winters get. We have fixed allot of frozen pipes. A very simple solution is install heat tracing.Call us when you need heat tracing.
Simply put, electric heat tracing is a system employed to keep pipes from freezing. Heat tracing works to preserve the temperature, increase the temperature or compensate for heat losses in pipes or containers like water tanks. The heat generated by the heating cable maintains a temperature to prevent freezing. Typically, trace heating involves an electrical heating cable that is placed long a pipe
to stop heat lost and retain the heat line system's temperature, thermal insulation is used. Heating cables, or trace heating systems offer a variety of freeze protection applications.
What makes us different from other plumbers?
We are a small local plumbing service. We have been plumbing for 20 years. Over the years we have come to know what customers want. They want affordable local plumbers. when the customers call they want us there now not hours from now or days. We can be there in 30 minutes. Customers want it done and fast. We have installed every toilet, bidet, kitchen sink, water pump, drain pipe, faucet, shower, tub, dishwasher and fridge lines, sump pump, known to man. We repair any plumbing, pressure tanks, pressure switch, toilet repair, shower repair, faucet repair. 20 years of local plumbing we can fix or repair any plumbing issue you have. Weve had customers explain the problem with gurgling noises over the phone and know exactly what the problem is. We are licensed master plumbers. Not unlicensed drain cleaners. We are professionals and are backed with a great reputation. Check out our reviews.
When your looking for a good local plumber call us. We will be there quickly and the price we give you over the phone is it no surprises. We want your business again and encourage you to write a review explaining to others how good are plumbing service for you was.
Local affordable plumbing at a time that's convenient for you that's what makes us different, and if you need us in a emergency plumbing situation were there quickly 30 minutes.
Call us. Or if you don't feel like calling no pressure, email us.